Linksys EA9500 Review – The best home router!
Verdict
The Linksys EA9500 is a feature packed monster of a router. And with it's many antennas, it's hard to lose connection to it. Its online software is easy to use, and offers a variety of useful features such as parenting control, media & device prioritization, external storage support & so much more. If what you are looking for is one of the best home routers for a speedy connection. It doesn't get much better than the EA9500 from Linksys
Pros
Amazing speed
Stability with many connected devices
Great online admin tools
Ability to act as a NAS
Media prioritization
Cons
Gets hot and noticeable (audio wise) under heavy load
Admin panel is bad at explaining what different settings do.
Linksys are known for making quality enterprise & home networking solutions. With its Tri-Band technology, 8 antennas, 8 gigabit ethernet ports and robust software, the EA9500 is no exception to that.
Testing the Linksys EA9500
I've been testing the router for about 3 weeks now. Throwing everything I've got at it. 4K streaming on multiple devices, gaming and uploading  5GB video files. I've tested the router from 1M and 10M's distance. I've connected an external hard drive to essentially turn the router into a full on NAS. I've had the entire house connected to the single router at the same time. This type of load would kill my D-Link from 2012. But boy can the EA9500 handle the load.
Hardware & Software
In terms of features, both hardware and software. It's got most of it covered. Hardware wise, the router is equipped with 8 dual band antennas capable of pushing out 100's of mbps to both a 2,4ghz and 5ghz network. On the back you'll find 8 gigabit ethernet ports and two USB ports that can be used to connect external hard drives, more on that further down the review.Audio wise, the router is unnoticeable when idling and just noticeable during heavy load, which isn't all that easy to achieve.
Build quality of the router isn't really anything I think anyone would care much about, therefore I won't touch on it.
Another strong suit of the EA9500 is the admin panel. It's easy to use, and you can access it anywhere (as long as you've got an internet connection). The below screenshots will explain what all the features are and why they're useful.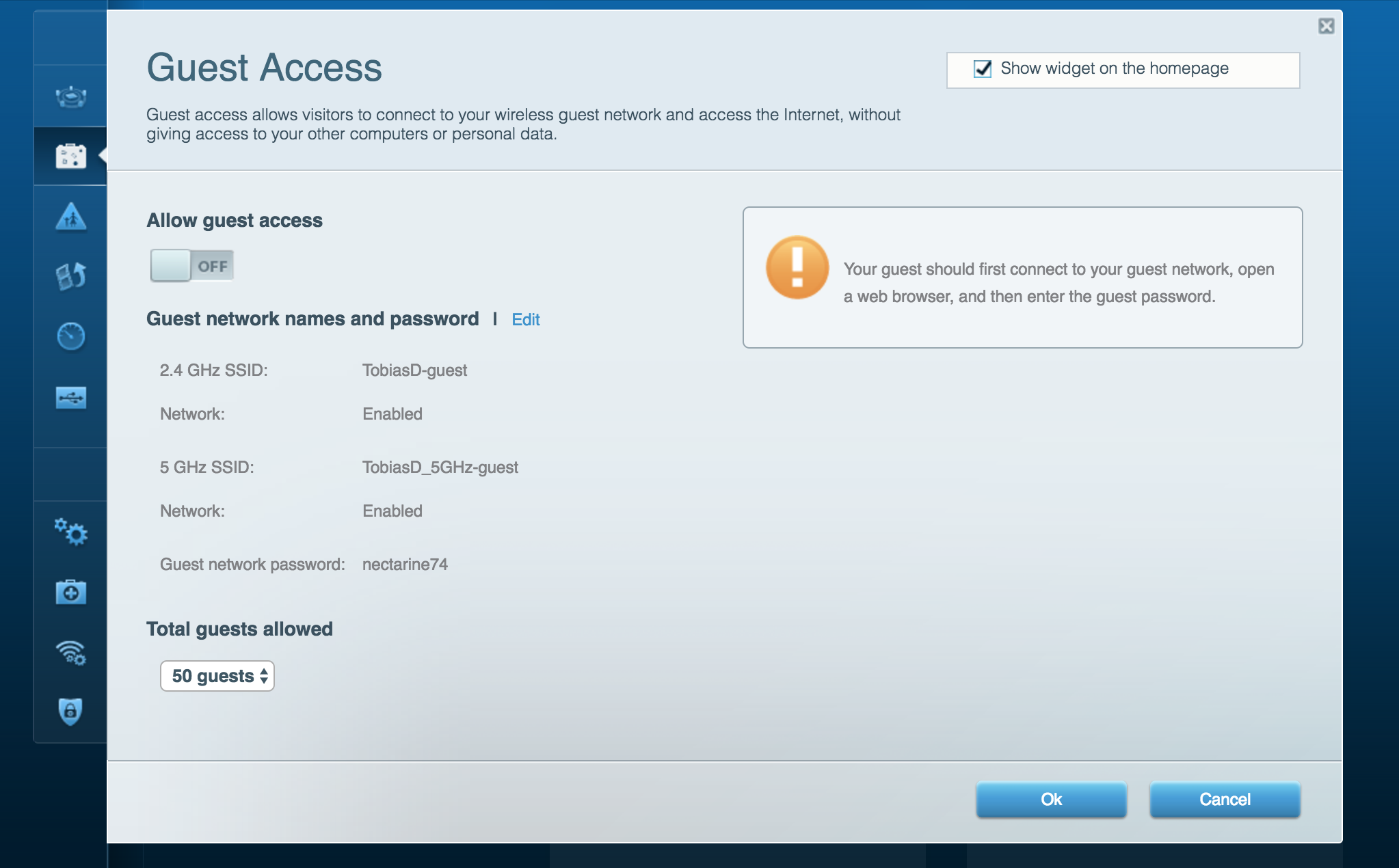 Guest Access ⇧
This feature lets you set up a guest network with a different password. You can have both a 2,4 and 5gh network available, or just one of them. You can also set a maximum number of guests allowed on a single network (max being 50). Once you've set up guest access. Anyone who wants to connect can do so, but they have to enter in the guest access password on a pop up webpage to enable the network for their device.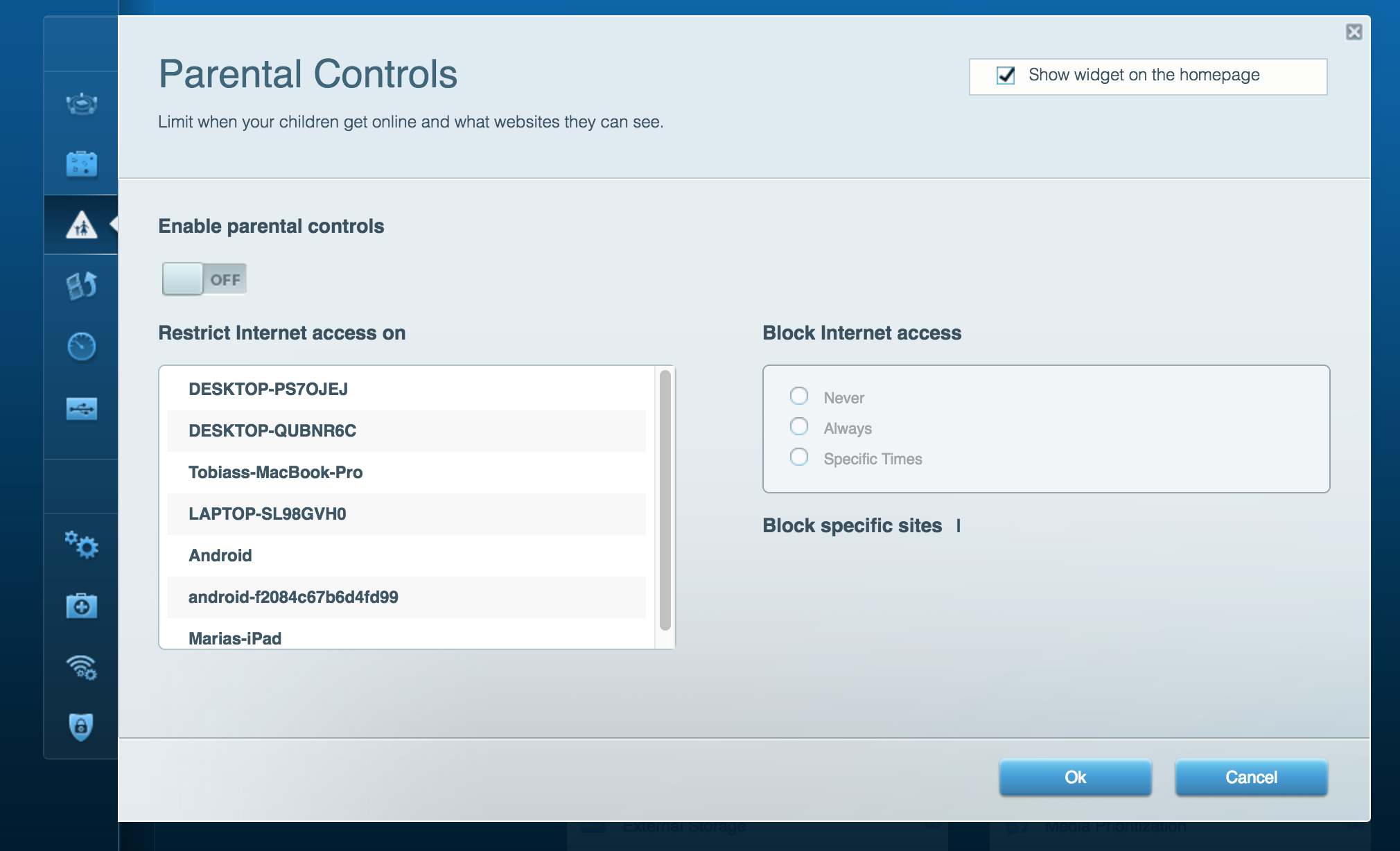 Parental Controls ⇧
This feature lets you block specific websites on select devices on your network. It'll also let you disable internet access on specific times. A great feature for parents, or someone who wants control over what people can do via your router.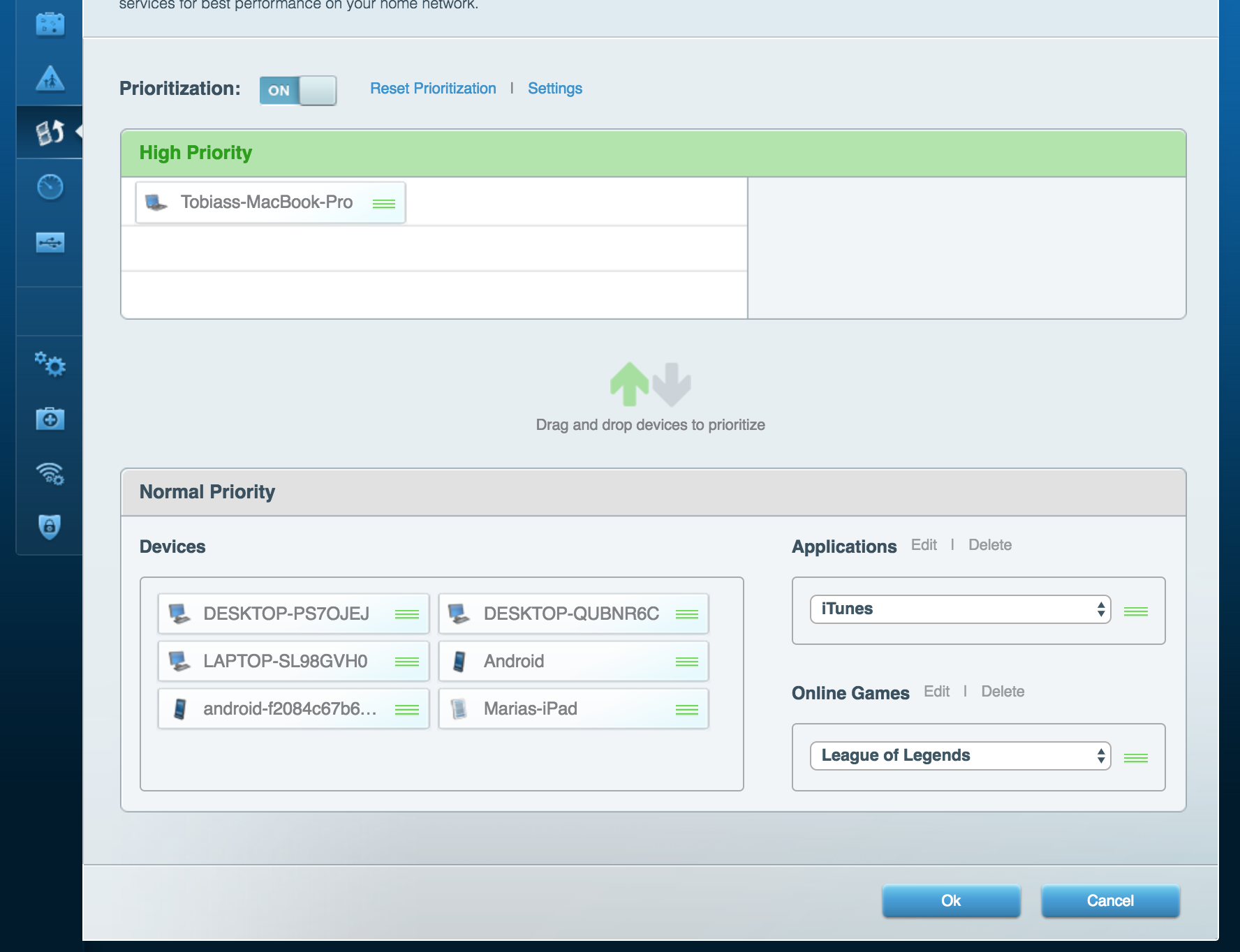 Prioritization ⇧
This is a very sought after feature for many people with a slower ISP connection. You can select devices on your network to prioritize traffic to. If you've got a special application or game requiring most of the available bandwidth, you can also set that up in this feature.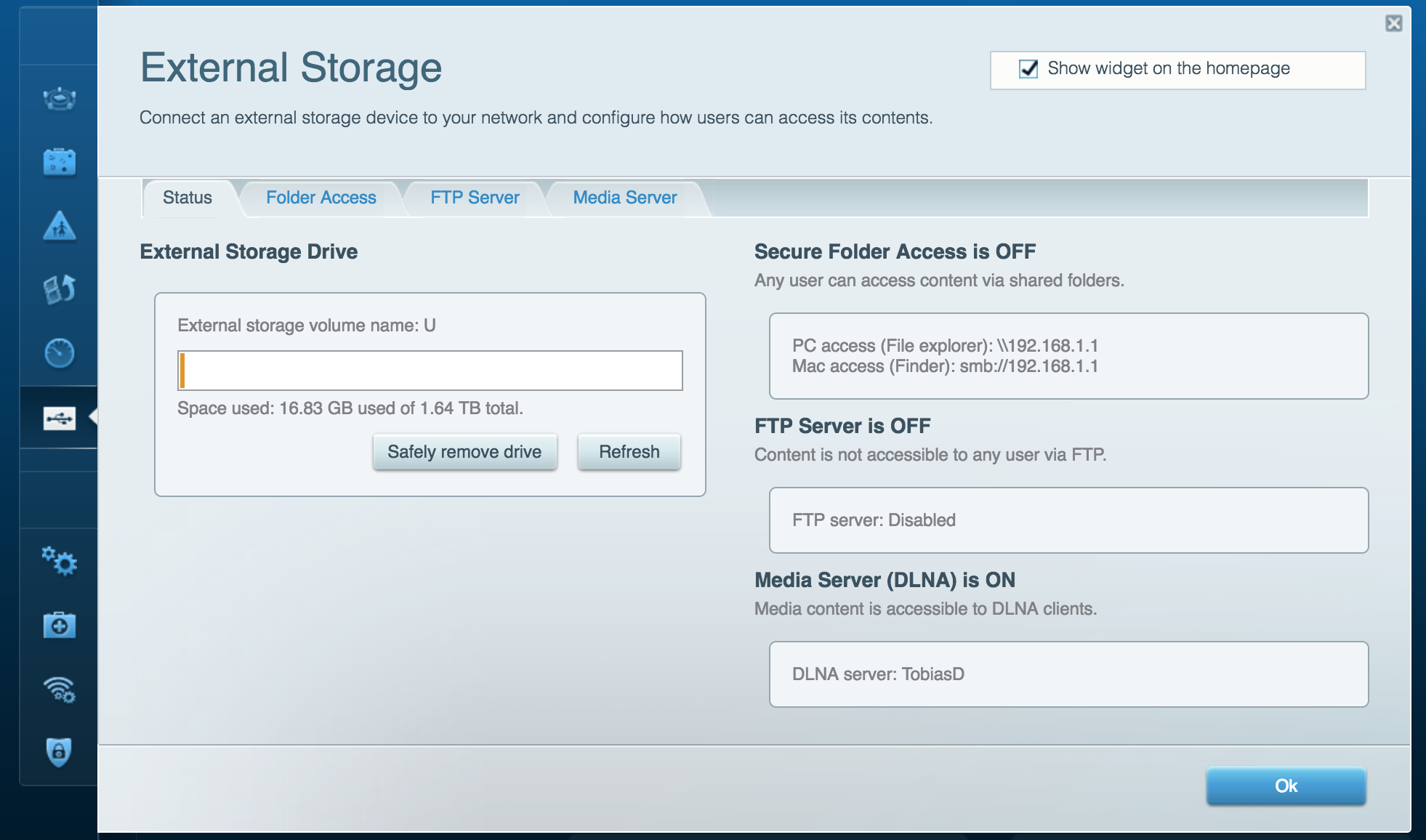 External Storage
Connect an external hard drive to the right USB port to get access to it over your entire network. You can set up Secured Folder Access which only lets signed in users access content on the drive. This feature transforms your router into a NAS. It's been working great for me. I'm accessing data from a HDD in the office from the living room. Transfer speed all depends on how far away you are from the router and what band you're connected to (2,4 or 5ghz, 5 being the faster band).
Other than those stand out features you can control every setting in the router via the admin panel. There's an easy to understand page with the most changed settings, and a more advanced settings page. Click on the images to view the available settings.
Range
Thanks to the eight quality Linksys antennas. Accessing the internet from a distance is easy with no real slow down. My living room is about 15 meters (50 feet) away from my office, where the router is located. Sitting in the living room I get 5 bars of connection strength. And the below picture shows what speed I got on my 250 down 150 up network connection from the ISP. Pretty great right?
The router has a small display on the front which shows the load percentage (blue bars) but you can't do anything else with the display.
My verdict on the Linksys EA9500 can be read by scrolling up. If you'd like to buy the EA9500, click here.
If you've got questions regarding the product, hit me up on Twitter @TobiasDahlberg_